Osteoporosis, or thinning bones, can result in painful fractures. Risk factors for osteoporosis include aging, being female, low body weight, low sex hormones or menopause, smoking, and some medications. Prevention and treatment include calcium and vitamin D, exercise, and osteoporosis medications.
Did you know there are different types of osteoporosis? While white women are at the greatest risk, the disease does not discriminate. Men and women of all ethnic groups can develop osteoporosis. So can children and teenagers.
Osteoporosis Risk in Men and Women
Women experience more rapid bone loss in their 50s than men do. By the time they're both in their late 60s, though, men and women lose bone mass at the same rate. Statistics show that 2 million men have osteoporosis today. Another 12 million are at risk. And one out of every four men over age 50 will break a bone due to osteoporosis.
When Does a Woman's Risk of Osteoporosis Rise?
A woman's risk of osteoporosis rises sharply after menopause. This is especially true for white women and Asian women. It's also especially true for women who have small, thin frames.
What Are the Symptoms of Osteoporosis?
A person is often not aware that he or she has osteoporosis until a fracture occurs. But there are occasionally symptoms of the disorder. They could include:
Backache

A gradual loss of height and an accompanying stooped posture

Fractures of the spine, wrist, or hip
Osteoporosis Products
The products listed below are recommended by Dr. Klein.  They may help prevent or even reverse osteoporosis.  Click on the product image to see more information.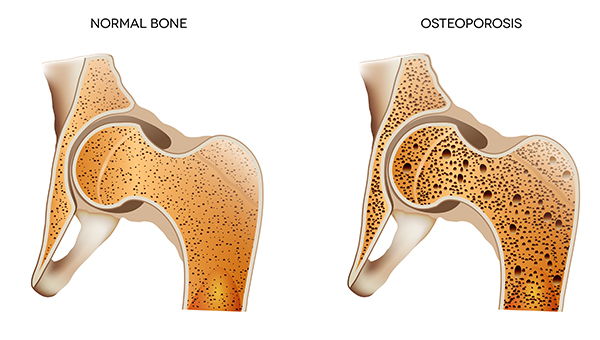 Osteoporosis Articles
Osteoporosis Media